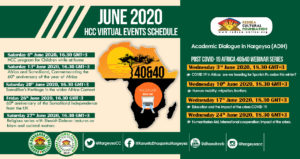 A Platform to assess and analyse the impact of Covid-19 in Africa
Hargeysa, 17th June 2020
Since we went virtual mid-May, the Hargeysa Cultural Centre (HCC) Academic Dialogue in Hargeysa (ADIH) programs became a platform to assess and analyse the risks associated with the Covid-19 pandemic virus in the continent of Africa.
With its profile and the credibility built through its work in the last ten years, the HCC was able to schedule these high profile programs for the month of June and July where the impact of this pandemic virus in Africa and its solution are central to the discussions. The HCC is proud to bring onboard and invite as panelists people with high knowledge and expertise of each topic that will be discussed in these programs.
We have dedicated at least ten episodes of the ADIH in a series of virtual programs named as "Post Covid-19 Africa 40&40 Webinar Series" where the first one is live streamed on the 3rd of June. These series will address the impact of the Covid-19 crisis on various area of the human's life. So far, the "Post Covid-19 Africa 40&40 Webinar Series" has addressed the risk of Covid-19 becoming the Spanish Flu and what the continent has to do as prevention, migration and human mobility was also the topic of  the second one. The third episode, which will take place on the 17th June, will be focusing on the humanitarian aid and international cooperation. Each program takes about one hour and twenty minutes.
These series are aimed to make the Global South aware of the risks associated with this pandemic and prepare them of what may become the "new normal". It is also a platform to encourage increased cooperation on the Covid-19 impacts between Global North and Global South.
As the HCC, we thank immensely our panelists for their contributions. We hope that these series of program of the ADIH will forge a closer cooperation on each front between the African nations and set a new vision for the Global North and Global South relations.
Stay tuned on the HCC Facebook page at https://www.facebook.com/XaruntaDhaqankaHargeysa each Wednesday at 18:30 GMT+3
In case you miss any episode of the ADIH virtual programs, please click this link: http://www.hargeysaculturalcenter.org/hccvirtual/
Hargeysa Cultural Centre Management