Event: PhD Session, Academic Dialogue presentation on the recent discovery of Dacar Cas/Somali Red Aloe: a new species of Aloe (Asphodelaceae) 
By the two researchers Mary Barkworth who is a plant taxonomist who retired from Utah State University in 2012. In 2015, she became interested in helping Somaliland develop, in Somaliland, resources for studying its biodiversity, particularly its plant diversity, Mary's research was focused on two groups of grasses, neither of which is well represented in Somaliland, but she was able to assist in bringing the Somali Red Aloe to the attention of scientists because as a taxonomist, she is aware of the requirements for formally naming species that has not previously been recognized. And
Ahmed Awale is well known in Somaliland for his passionate commitment to the Somaliland's environment, which is reflected in his many publications and his work as Chair of Candlelight, an organization devoted to the environment, education, and health in Somaliland. He discovered the first population of the Somali Red Aloe while traveling for Candlelight in 2013.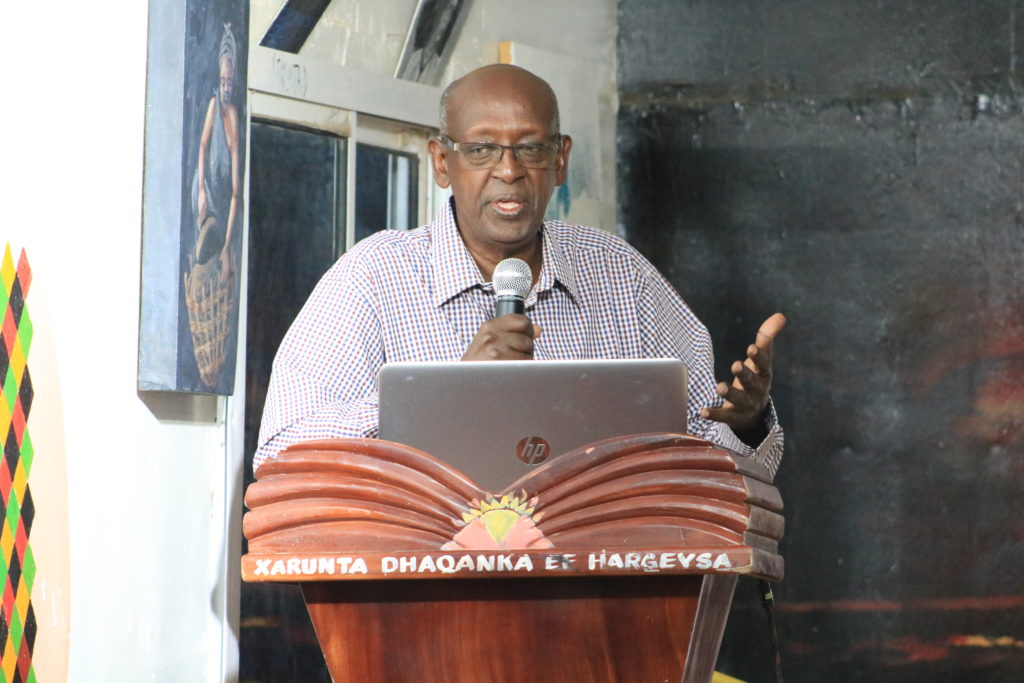 Because of his knowledge of Somaliland's plants, particularly its succulents, he realized it might be undescribed. The recently published paper is an outcome of his insight. Formal recognition of the Somali Red Aloe will, it is hoped, aid in promoting conservation of Somaliland's rich natural heritage and its recognition as an integral part of Somaliland's cultural heritage.
Mary Barkworth talking about the researcher process and the researcher's hypothesis while describing the new Aloe.
Ahmed Ibrahim Awale talking about the discovery of new species of Aloe in Somaliland and Description and identification of a new alone species in Somaliland, material and methods, figs and introduction of the Researcher.
Also A new species of Aloe ( Asphodelaceae )is described from Somaliland. It differs from other species in forming large clumps and in having sap that is initially yellow but quickly turns bright red and then dark red or reddish-brown, paniculate red-flowered inflorescences and uniformly coloured leaves with red teeth. And recognitions raises the number of species known from the combined area of Somaliland and Somalia from 31 to 36.
Also differed from other Aloe species in the region in having leaves with reddish teeth and, when cut, an exudate that rapidly turns from yellow to bright red.
Also noticed the plants, referring to them as "Da'ar as (Dacar Cas), or Red, to distinguish them from other Aloes in the region, such as Da'ar Buduk (Dacar Budhuq), the name used locally for A. retrospections Reynolds.
Also noted he is collected cuttings to grow and observe in Hargeisa. The flowers were protandrous, forming plump, well-filled anthers that matured before the styles had fully elongated. Both the anthers and the styles appeared fully functional. These observations made it unlikely that the plants were hybrids.
After very interesting presentation that questions and discussion session starting, Ahmed Awale and Mary Barkworth reflecting on the question