Event: Film screening
Language: English
Title: LIFE IS WAITING: Referendum and Resistance in Western Sahara - A film by:  Iara Lee, 2015
Venue: Hargeysa Cultural Center - Time: Wednesday 19 March, 2015. 19.30
Forty years after its people were promised freedom by departing Spanish rulers, the Western Sahara remains Africa's last colony. While a UN-brokered ceasefire put an end to armed hostilities in the territory in 1991, the Sahrawi people have continued to live under the Moroccan armed forces' oppressive occupation, and what peace exists in the area is fragile at best. Tens of thousands of Sahrawis have fled to neighboring Algeria, where over 125,000 refugees still live in camps that were intended to be temporary. In spite of these difficulties, a new movement, with youth at its center, is rising to challenge human rights abuses and to demand the long-promised referendum on freedom. Today's young generation is deploying creative nonviolent resistance for the cause of self-determination. In doing so, they've had to persevere against a torrent of conflicting forces. While risking torture and disappearance at the hands of Moroccan authorities, they're also pushing back against those who have lost patience with the international community and are ready to launch another guerrilla war.
The new film from director Iara Lee will examine these tensions as it chronicles the everyday violence of life under occupation, giving voice to the aspirations of a desert people for whom colonialism has never ended.
Life Is Waiting is now screening internationally, and Redsea Cultural Foundation is glad to join and screen it at Hargeysa Cultural Center in Hargeysa, Somaliland.
After the film, a short presentation of the history of Western Sahara people, and a debate on nonviolent resistance and civic activism, will follow.
Join us at 19.00, 19 March, 2015 at Hargeysa Cultural Center.
Vacant position at RCF

Redsea Cultural Foundation is recruiting motivated and talented candidate, and hereby announcing a new position for Art Administration and Finance Management. Application details.
Deadline for application 12.00PM Saturday 21 March 2015
Seeska Hiddaha iyo Dhaqanka ee "Redsea" waxa ka bannaan jago loo doonayo qof dadaal badan, karti shaqo leh, aqoon u leh oo jecel dhaqanka iyo fanka, waxana halkan lagu baafinayaa jago madaxa Maamulka, Maaraynta iyo Xisaabaadka. Warbixin dheeraad ah.
Is diiwaangelintu waxa ay dhacaysaa 12.00 duhurnimo Sabtida 21ka Maarj, 2015
Debate: Education, Youth and Employment in Somaliland: Challenges and Opportunities
Date: November 22, Saturday
Panel: Ahmed Abdi Ismail, Amoud University, School of Postgraduate Studies; Adnan Hagog, Youth Activist; Ridwan Osman, PhD Candidate, Cambridge University.

Respondent: Dr. Sa'ad Ali Shire, Minister for National Planning and Development.

Time: 18.30 at Hargeysa Cultural Center, Maroodijeex Bridge, Hargeysa.

For the past 23 years, Somaliland has made considerable progress in establishing education system, re-opening schools and colleges and for the first time in the history of the country, establishing institutions of higher learning. Since then, various forms of education, including non-formal, adult, vocational schools and Quranic education, dominated the sphere. Currently, the country enjoys high student population, with the opportunity to pursue various forms of education and training paths. The improvement of education standers facilitated higher number of school and university graduates who made the labor market more competitive, Now, young Somaliland who had their training and education in the country are employed in various industries, such as business, NGOs, education institutions and small scale industries. However, there have been challenges in the field. Employers find that there is shortage of skilled workers in certain areas. This forces them many employers to import labor from abroad. The latter factor contributes to youth unemployment, which is already rampant in the country. Panelists from various stakeholders and actors in the field will approach the theme of the month from different angles and perspectives. This is the first of several debates in which the various stakeholders can share their contributions with the public.

Entry: Free. Requires registration (come bit earlier if you are new to the Center).
Language: Somali. Translation to English available upon request.
---
Book launch "Aleen" 
Wednesday, 19th. November. 2014
'Aleen' is Saddaam Carab's second book of collection of short stories. He published "Baraarug" in 2013. This new collection of short stories cover more social and current civic issues focusing in particularly on youth. Born in Balliyalay (Ethiopia) in the end of 1990,  Saddaam Carab studied in Hargeysa where he grew up and now works as an IT expert. Balliyalay was one of the refugee camps in Ethiopia where Somalilanders got shelter during the devastating war in 1988.  

'Aleen'  is also the second book of "Dhawaaq Dhallinyaro" (Voice of Youth) series.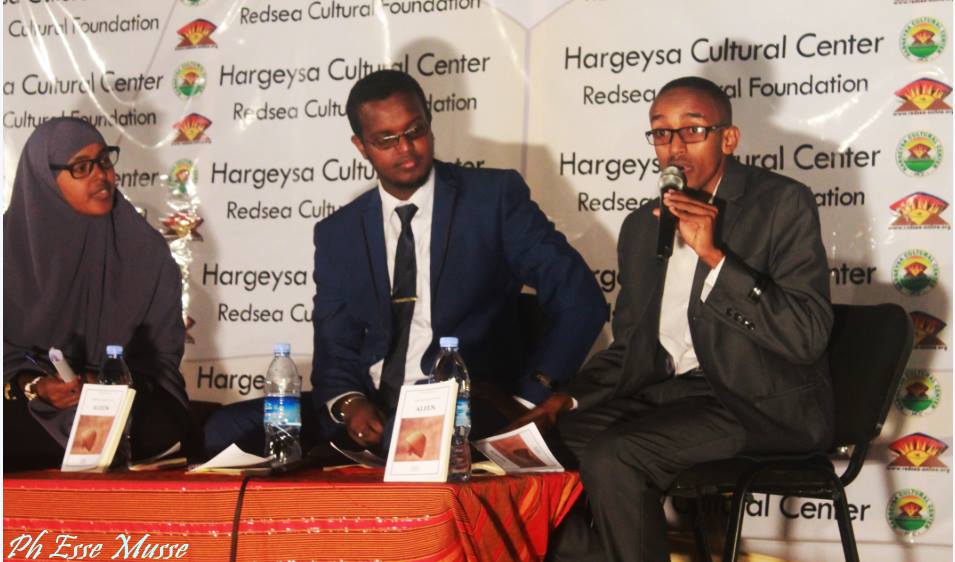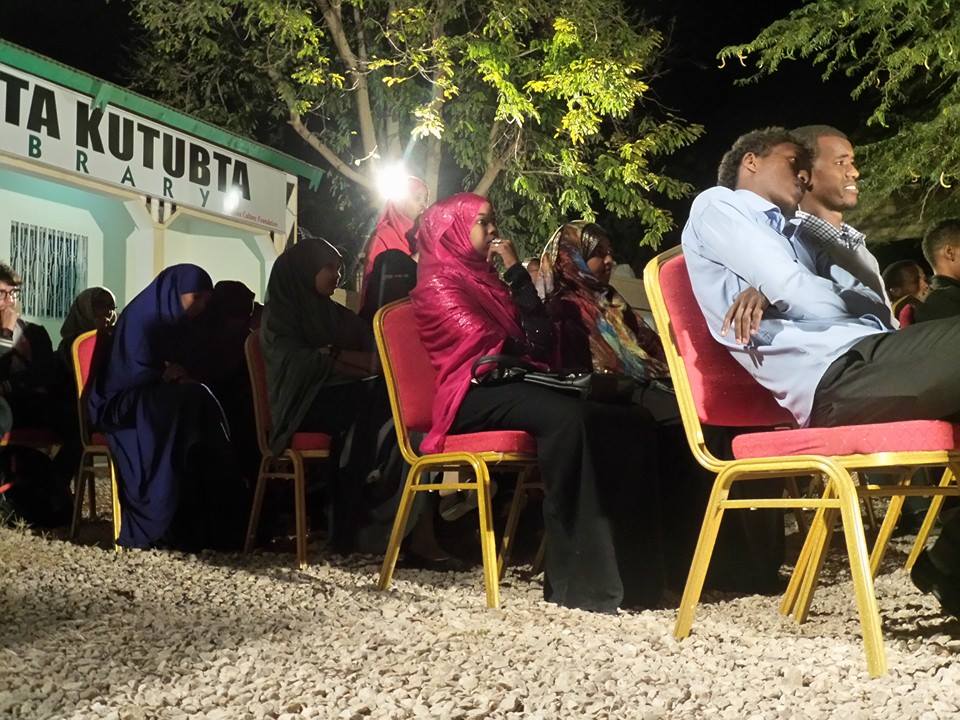 ---
Book launch and a new series of books 
Wednesday, 5th. November. 2014

Hargeysa Cultural Centre hosted the launch of "Kadabgooye", the debut book by Barkhad M Kariye. Over hundred young people attended the ceremony. Saddam Hussein, author of Baraarug, chaired the event and Hoodo Ayan Suldan, director of Mohamed Moge Centre, who already read the book, presented it as respondent to the discussion. Kadabgoye is about 'Qaad' (Khat), and it Barkhad Mohamud Kariye, the author, has read some of stories in the book. The event concluded with lively debate about the consequences of the use of Qaad within Somaliland society.
Kadabgoye is the first book of 'Dhawaaq Dhallinyaro'. Dhawaaq Dhallinyaro (Voice of the Youth) is a series books, published by Ponte Invisibile (redsea online publishers) in Pisa, Italy.
Barkhad Mohamud Kariye is a journalist, he works for BBC media action.  Kadabgoye is his first book but not his first writing. Barkhad has been writing on Somali mass media for years. He writes in Somali and as well as English. Barkhad is a father of three children and he lives in Hargeysa.